Direct download is not possible anymore. If you want to create a DVD please contact me here!
01. Herunterladen – Download
Um eine DVD zu erstellen, die DVD-ISO (Babajaga-CC-2009.iso) Datei herunterladen. Die Datei "Babajaga-CC-2009.iso" ist die komplette DVD – nur noch nicht gebrannt. Bitte wählen sie einen Download:
To create your own Babajaga-DVD, download the DVD-ISO (Babajaga-CC-2009.iso). This file is the whole DVD – its just not burned yet. Please choose one download-mirror:
02. Brennen – Burning
Sie können nun im Brennprogramm ihrer Wahl diese .ISO-Datei brennen. Dieser Vorgang wird leider in den Brennprogrammen unterschiedlich genannt, es ist aber immer das gleiche gemeint. Manchmal heißt es "Image brennen" (Nero) oder "Abbild brennen" (Roxio). Am einfachsten ist es mit dem kostenlosen Programm Imgburn.
After downloading you can burn the .iso-file with your favourite DVD-burning software. Have a look in the menu for "burn image" (f.e. in Nero). The easiest way is to use the open source software Imgburn: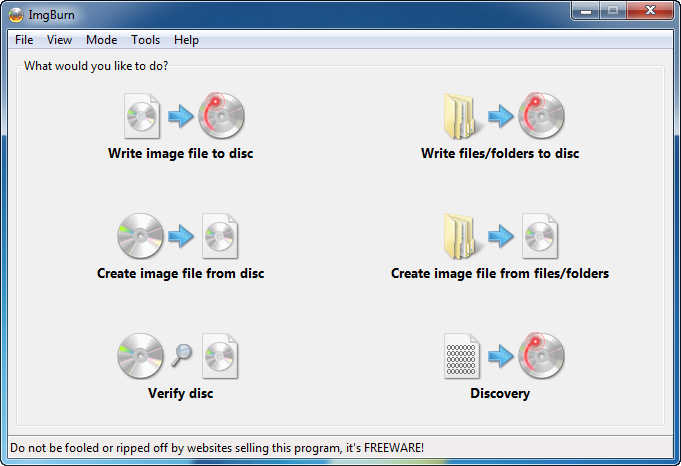 Einfach auf "Write image file to disc" klicken, die "Babajaga-CC-2009.iso" Datei anwählen, DVD-Rohling einlegen und los gehts.
Just click on "Write image file to disc", select "Babajaga-CC-2009.iso" on your harddisk, put an empty DVD-R in your burner and there you go.
03. DVD-Cover und Rohling bedrucken – Print DVD-Cover and DVD-R
Es gibt ein DVD-Cover für die einfachen dünnen Hüllen:
We prepared a DVD-Cover for the simple Slimcases:
Die Grafik herunterladen und in 24×12 cm ausdrucken. Die kleinen Schnittmarkierungen erleichtern das Ausschneiden. Danach in der Mitte falten und in die Hülle schieben.
Please download the graphic and print it in 24×12 cm. There are small marks which should make the cut out easier. Wrinkle the print in the middle and put it into the case.
Außerdem kann man die DVD damit bedrucken:
Additionally one can print a label on the DVD:
Wieder die Grafik herunterladen und mit einem dafür geeigneten Drucker die bedruckbaren Rohlinge bedrucken oder entsprechende Aufkleber.
Download the graphic and print it directly on a printable DVD-R, if you have a printer which has the function to do it. The other way is to use fitting badges or sticker on which can be printed with an ordinary printer.
---